Physical Education

Our PE Curriculum is....
Broad
to inspire every child to be passionate about Physical Education and Sport.
To cover the National Curriculum programmes of study and outcomes.

The national curriculum aims:

develop competence to excel in a broad range of physical activities
are physically active for sustained periods of time
engage in competitive sports and activities
lead healthy, active lives.

to ensure physical literacy is being developed over a variety of areas of Physical Education.
To have fun, high quality PE lessons.
To include links with other subjects in the curriculum to reinforce skills, knowledge and understanding and enhance learning.
To promote values of resilience, teamwork, competition and fairness.
To encourages the development of leadership skills.
Balanced
Covers all of the areas of PE at different times of the year
Covers skills that are applied in a whole range of physical activities.
Promotes the development of a healthy body
Progressive
Strands built upon from EYFS to KS1 to KS2
Skills built upon from one year to the next with I can statements that break down the progression of knowledge skills and understanding into year group specific targets for our mixed year classes.
Lessons all have Learning Intentions, Step to Success
Cumulative
Knowledge is revisited and skills developed by repetition and reinforcement
Opportunities to take skills to a higher level are provided through competitions and events with other schools in the Birchwood School PE Partnership.
Inclusive
The resources provide quality learning opportunities for all abilities.
Reasonable adjustments will be made to ensure children with SEND are fully able to participate.
The curriculum plans provide exciting learning journeys – clear, measurable learning journeys for all abilities.
The resources ensure there is progression for all abilities.
Support by teachers, coaches and teaching assistants enables all children to be included and encourages development and progression from current skill levels, enabling all children to make individual progress.
Teachers will ensure that understanding of equality of opportunities is enhanced through the teaching and the interactions; this will include teaching pupils to appropriately challenge negative comments, expectations or stereotypes that they experience when learning and talking about PE and sports
Implementation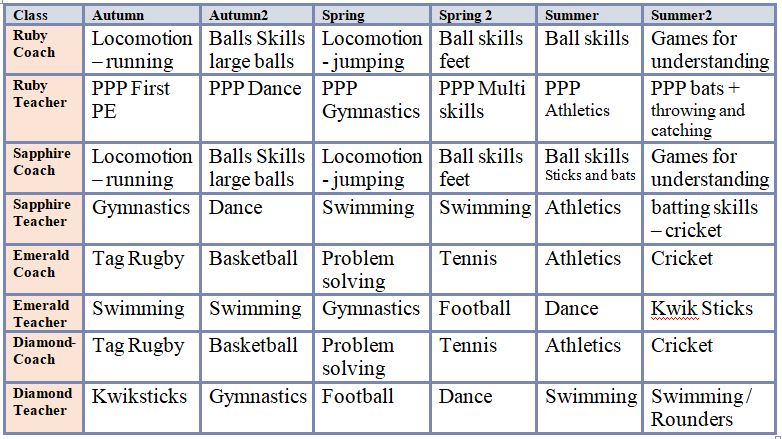 We use outdoors as much as possible, due to the space we have. We use the playground, field and MUGA for many of the games lessons. Our hall is used for dance and gymnastics and games in small groups
Each class has 2 hour long PE sessions, one taken by the class teacher and teaching assistant, the other by the sports coach with an additional adult supporting the teaching and learning and gaining form their expertise.
In addition, each class has 10-15 minutes additional physical activity. This may be a specific skill, joining in with part of an online fitness class or the daily mile
Impact
Teachers use formative assessment during teaching and learning and provide support as needed
Assessment without levels – measuring every child's progress. The level each child is working at (whether in line with the majority of I can statements for their year group, below or above) will be recorded and input into the school's tracking system twice a year (February half term in preparation for written parent reports and at the end of the academic year to provide the receiving teacher with up-to- date information.