Uniform - Shop Online & Local
Parents are able to buy uniform online or in store from local retailer TOP FORM.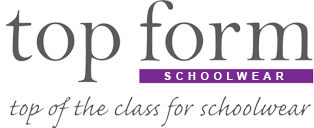 Bulk uniform orders online from TOP FORM can be ordered to be collected from their shop or for delivered free of charge to the school. Unfortunately, individual uniform items may incur a delivery charge.
"We believe that the wearing of a school uniform enables pupils to identify with their school, gives a sense of belonging, is practical and smart, reinforces a positive work ethos and reduces expenditure for parents/carers".
Items of uniform can be bought with the school logo on from Top Form. They have a shop in Harlow, where you can go in and try on and buy the uniform. Alternatively, you can shop online. Top Form 90/91 The Stow Harlow Essex CM20 3AP T: 01279 434813 http://www.top-form.co.uk
Items without the school logo are easily available, at very competitive prices, at local shops including supermarkets. A complete list of the items needed for school uniform, including those for P.E. and Outdoor Learning, is included in this policy.
Our Uniform
Red Jumper or cardigan, white shirt (school tie optional), white polo shirt, grey trousers, shorts or skirt, black, grey or white socks or grey or red tights and black shoes

A grey pinafore dress can also be worn

Red and white gingham dresses may also be worn in warmer weather in Autumn & Summer Terms.
PE Uniform:
Blue PE hoodies and blue tracksuit trousers or a plain blue tracksuit and a red t-shirt (with or without logo) should be worn on PE Days
Jewellery, Hair Ornaments, Make-up, nail varnish and temporary tattoos
For health and safety reasons, we do not allow children to wear jewellery. The exception to this rule are small objects of religious significance or stud earrings. Children are required to remove any items during PE lessons to prevent them from causing injury. Your child's class teacher will advise you when PE lessons are to take place. Please note: Teachers are not permitted to remove earrings.
Hairbands, ribbons/bows or 'scrunchies' should be plain and either red, white, or black. Hairbands should not have objects attached to them such as flowers. Make-up, nail varnish and temporary tattoos should not be worn in school. Pupils are free to wear a headscarf or other hair coverings for religious reasons at school if they wish to. These must however, be plain and either white, red or black. Headscarves of the type which drape to shoulder-length or just below are acceptable.
Footwear
All pupils are required to wear flat, plain, black shoes without logos. These should be closed in with no toes visible. If boots are worn these should also be flat and plain black. For health and safety reasons, we do not allow pupils to wear shoes with platform soles, sandals or flip-flops.
Adaptations for Weather
In the cold weather, particularly in the winter months, children are expected to wear coats and are permitted to wear a hat/ear-muffs, scarf and gloves. Please ensure that all items are clearly named. On hot days all children will not be expected to wear jumpers. Items such as polo-shirts / short-sleeved shirts, tailored shorts and summer dresses are all appropriate in the hot weather.
Help providing Uniform
We will always work with families who require support to ensure children come to school in the correct uniform. Parents should contact the office in confidence to discuss how we can help.
Click on the button below to go to the Policy page where you will find the full School Uniform Policy.